GROUP-EXHBITION 2018: Art-tour Ghent-Ledeberg, Belgium
SOLO-EXHBITION 2020: 24 – 31 July, Karmelietenklooster, Ghent, Belgium
FINALIST CONTEST ARTILLIA: GROUP-EXHIBITION 2020: 19 – 30 August, Artgalery Arttilia, Antwerp, Belgium
NOMINEE PAINTING OF THE YEAR 2020: Group exhibition Amsterdam, The Netherlands (expo cancelled due to corona)
STREET EXHIBITION 'ART BEHIND GLASS': 23 – 30 January, Ghent-Ledeberg, Belgium
SELECTED ARTIST KUS: GROUP-EXHBITION 2021: April – May, Urban exhibition Oud-Turnhout, Belgium
ACHTURENHUIS SOLO EXHIBITION: April – May, Ghent-Ledeberg, Belgium
SELECTED ARTIST ONBOARDS Biennale 2021: July – August, billboard exhibition in the streets of Antwerp, Belgium
SELECTED ARTIST 'Het Zonnelied Verbeeld' EXHIBITION 2021: 23 August – 23 November, Museum DE MINDERE, Sint-Truiden, Belgium
SELECTED ARTIST KUNST IN HET DORP 2021: EXHIBITION 11 – 12 – 17 – 18 – 19 september, Bellingen, Belgium
SELECTED ARTIST BERLART: OUTDOOR-EXHIBITION 2021: 4 July – 31 August, installation art, Berlare, Belgium – EXTENDED TILL END OF 2021

ToBe TURNHOUT: INDOOR-EXHIBITION 2022: 15 July – 15 August, solo-exhibition, Turnhout, Belgium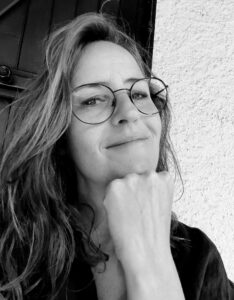 Born on 

the 2nd of July 1973 in Ghent, Belgium, she soon discovered a passion for art, drawing and painting. She graduated as Master of Fine Arts (KASK) in Ghent, Belgium.
After a professional period of 20 years as a graphic designer, she devoted the past 4 years to multiple 

art disciplines such as painting and installation art.

 
" A good artwork is like a waving child"